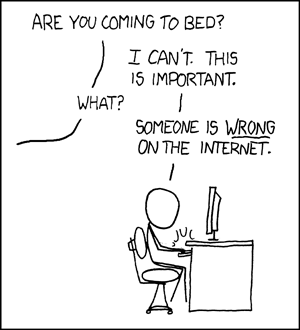 Neil Postman's
Amusing Ourselves To Death
really illuminates what has happened to public discourse in America. He wrote primarily about the influence of television, but everything he says is applicable to the internet - the trends he describes have only worsened since the book was written in 1985. In many places it sounds like a book that was written for today and not for 35 years ago, down to the finest details ("As I write, our president is a Hollywood actor" and "political leaders need not trouble themselves very much with reality provided that their performances consistently generate a sense of verisimilitude" and "[critics have observed] the dissolution of public discourse in America and its conversion into the art of show business"). The basic thesis is that a medium of communication is not impartial; inherent in it are biases that inevitably shape the content that is and can be expressed through that medium. As Postman says, "You cannot do political philosophy on television". Of course you could use the technology of television to portray an extended, subtle and nuanced argument. But such a thing would be boring and so no one would watch it - which is precisely the point.
All of this applies even more so to the internet. The internet is for entertainment. Even when it is ostensibly doing other things like conveying important information, it does so in a way that must satisfy our need to be entertained and our intolerance of boredom. I know there is lots of content on the internet that seems to violate this idea. But who cares? tl;dr.
Because the internet is a tool for entertainment, everything on it (that is, everything that anyone actually reads or views) must be stripped down to its simplest form and must convey some emotion. This is not a form that is conducive to communicating truth or to rational argument. Truths can be communicated this way, but it is a dangerous medium for doing so because the truth of a proposition is unrelated to its ability to be given a brief, emotionally forceful presentation that is suitable for going viral.
And so here we are. If you peruse the political right on facebook or twitter, you'll find some memes, some short pithy sayings that explain one's self-evident rightness or ridicule the other tribe, links to short articles with inflammatory titles that spark outraged comment threads filled with people who only read the headline. If you peruse the political left, you find… exactly the same thing. If you dig a little deeper there are a bunch of justifications that reduce to "our trite political entertainment is better than the other tribe's, because ours is actually true" but since all of this is being communicated through a medium that is indifferent to truth, they only serve the purpose of alienating or being self-congratulatory depending on the prior beliefs of the reader. In one of Postman's more biting paragraphs he remarks on the state of TV journalism:
In the absence of context, what possible interest could there be in what the President says now, and what he says then [regarding contradictory statements]? It is merely a rehash of old news. The only thing to be amused about is the bafflement of reporters at the public's indifference. There's an irony in the fact that the very group that has taken the world apart should, on trying to piece it together again, be surprised that no one notices much, or cares.
To be fair, the right has been more aggressive in exploiting the fact that our communication mediums have totally divorced persuasive power from rational discourse. In the past, either there was a tacit agreement among those in power not to exploit it too egregiously or else no one prior to Donald Trump truly realized the degree to which they could be divorced.
It really matters that our mediums of communication be suitable for rational discourse. For that to happen they have to accommodate detailed exposition and examination, with room for nuance that does not neatly fall into one of two buckets. You may wonder if it has ever been any different, people being what they are. But different mediums have different inherent biases, and the biases of print communication lean into the requirements for rational discourse, while the biases of electronic communication (instant, short, visual, context-free) lean away. Postman has this to say:
It takes time to write a book, and to read one; time to discuss its contents and to make judgement about their merit. A book is an attempt to make thought permanent and to contribute to the great conversation conducted by authors of the past. Therefore, civilized people everywhere consider the burning of a book a vile form of anti-intellectualism. But the telegraph demands that we burn its contents.
And if the telegraph, how much more so the tweet or Facebook post? Also, audiences of the past (within the American tradition) had much more patience for such things. As Postman notes, the 1858 Lincoln-Douglas debates were structured to give the first speaker an hour, the second a rebuttal of 90 minutes, and then the first closing arguments of 30 minutes. It is hard to imagine an audience of today putting up with three hours of oratory. Compare to a modern debate where response times are measured in seconds, not hours, and the difference between winning and losing could be about looking composed and getting off a good one-liner. The sentence structure of Lincoln and Douglas was also much more complex and obviously steeped in the print tradition.
But if all that is so, what to do about it? The internet is obviously not going anywhere, nor should it - I've been focussed on its negative aspects here but there are quite obviously a great many positive ones. One benefit that the internet has over TV is that, while airtime is expensive, internet hosting is cheap. So there is an enormous amount of content on the internet that absolutely meets the bar for rational discourse - even though it will never trend on twitter. I'm also encouraged by podcasts, which have no arbitrary time constraints and are often investigative or educational in nature. I miss the heyday of blogs in the early internet. Social media, though, has been a net negative for society. The ability to connect with people across space and time is really powerful and really good. I'm a member of a private Facebook group that has been incredibly rewarding to me. But its ability to stoke rage is also unparalleled. I've seen relationships destroyed in Facebook comment threads and I don't think it is all that uncommon of an occurrence. You could know someone for 10 years and get along great with them but then find yourself unable to tolerate them because of the way they act on Facebook. I've unfollowed some people who I really like just because I want to keep liking them.
I don't really have an answer, just an exhortation: extract yourself from the endorphin mill of images and headlines and autonomic response. Making an argument, or evaluating an argument, is difficult work and it calls for nuance and time. No one wants to take or give time, they want to judge and move on. Instead have fewer, better opinions.